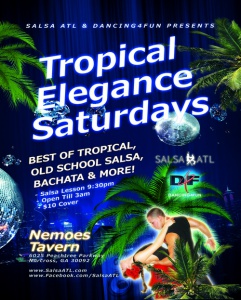 Every Saturday starting at 10pm Salsa ATL & D4F Presents...
 Tropical Elegance Saturdays Latin Night @ Nemoe's Tavern
Get your Latin dance fix with us this Saturday!
Hosted by Salsa ATL/Dancing4Fun Dance Studio, we start the evening off with a Salsa and Bachata lesson, followed by the best mix of Tropical Salsa, Bachata, Meregue & more.
Arrive early and grab a bite to eat before the party starts. Our free and introduction lesson starts at 10 PM this Saturday, and Latin music starts at 11 PM.
And don't worry about arriving late, because we have the party going on til 3 AM! We have a fun and diverse group of folks who join our Latin night each week.
Check out our website for all the latest schedule on classes and upcoming events: SalsaATL.com | Dancing4Fun.com
Check out our Facebook fan page: Facebook.com/SalsaATL | Facebook.com/Dancing4FunATL
Let us know if you are celebrating a birthday or any other special occasion with us! Any other questions give us a call or text...
Sean-Christopher - 770.855.4396
Where:

Time:

10pm Free Intro to Latin dance lesson
Party til 3am